Does the banner image on your email newsletter need to be as large as my house?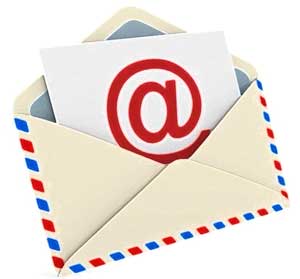 That's the question I considered today while reviewing some email newsletters on the Constant Contact user feature call, appropriately "Critique My Email," a page where I landed while working on the enewsletter for my client, the Middle East Peace Network.
Regardless of which email newsletter service you may use, the suggestions I gave my fellow Constant Contacters may be useful tips for a better enewsletter for you.
BANNER IMAGE: Should be attractive, engaging and compatible with your Web site. And it should be fairly small. Try looking at your newsletter on a tablet or netbook computer. If the banner takes up more than a third of the page, it's too big. Why? Because you want readers to see your most important content without scrolling.
BOREDOM: Engage your readers by replacing generic headings — especially in your Table of Contents — with specifics. Instead of "April Newsletter," use something like "Spring Cleaning Tips You Can't Live Without."
FONT: Body type that's too large also contributes to a newsletter that requires more scrolling than necessary. Size your body text at 12pt. If you go less than 10pt, people older than 30 (or 40?) won't want to try reading it.
STYLE: I realize that your text is important, but it doesn't all need to be in bold. Use bold for headings and subheadings; use italics for emphasis, but not too often; never use underlines, except for clickable links.
SPACES: While you're editing your text, disregard what you learned in typing class back in 1972: Use only one space after a period, not two. Unless you are using a monospaced font, such as Courier, this rule applies to anything you do on your computer.
MUGSHOT: Maybe it's just me, but if I'm reading your words in first-person, I'd like to see your photo, too. (See mine here.)
PHONE NUMBER: If the phrase "call today" is somewhere in your text, please include your phone number; don't make me search all around to find it.
BREVITY: I love that you have a lot on your mind, but it doesn't all need to be in your newsletter. Every good-sized article you are inclined to put in your newsletter should be on your Web site. Frequent fresh content on your site will get the search engines all excited and that will increase traffic to your site. For your newsletter, include just enough to whet the reader's appetite; include a "read more" link that targets your site.
LOCATION: If you're doing business on the Internet, don't assume that I understand the shorthand you use for local streets and communities.
I may not know exactly where you are, but I'm here and if you need some help with an email newsletter, let me know.